A Weekendtrip to Lisbon
Its Friday morning and we are preparing to catch our plan to Lisbon. From Frankfurt it's just a three hours flight and we are going to arrive in our apartment at lunchtime.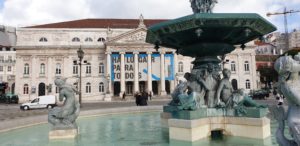 Its January and rainy, we decide to have a walk through the citycenter to get some first impressions. Lisbon is so beautiful and we straight fall in love! There is lots of placa's with very unique historical buildings and statues. It has really this magic spell. We make our way through the tiny streets towards our first stop the famous "Praca de Dom Pedro".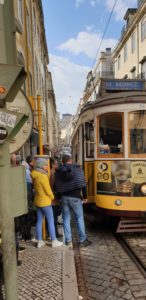 On our way we catch one of the city symbols, a golden tram.
As we arrive at "Praca de Comercio",it started to rain again and we decide to continue our city exploring at the next day as the the weather forecast is showing sun 🙂
Saturday morning, as it was shown, the sun is shining and fuels our exploring mood. With a packed bag we leave our apartment and make our way through Rua de Santa Justa, along the famous "Elevador de Santa Justa" which is an amazing viewpoint at any time of the day! We make our way up the hill, towards "Castelo de S. Jorge" which should be on your list if you will come to Lisbon.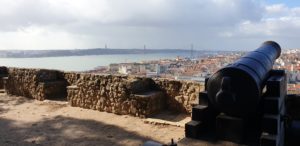 From there you have a fantastic view over the city with all it's beautiful charming building's.
Its lunchtime and after a small snack in "Pastelaria Santo Antonio" we make our way back to the promenade.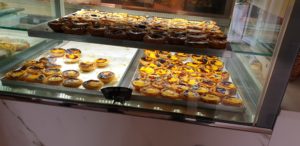 Along the coast we are going to catch the train to Belem. From the trainstation "Cais do Sodre" it's just a 10 minutes trainride and get off at Belem station. This area is really rich of "must see" places! You definetly have to visit the "Mosteiro dos Jeronimos"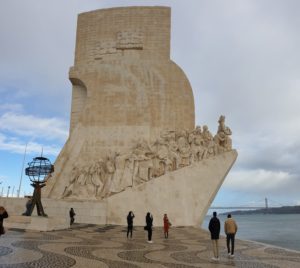 One option the get fast and comfortable from one of the attractions to another, is the electric scooter and bikes which you can rent through an app. Its just fun and so much more comfortable then walking 🙂
Last Station for today is "Torre de Belem" another Highlight in Lisbon. We arrive there for sunset, which is simply beautiful to see the sun slowly going down behind this magnificent monument.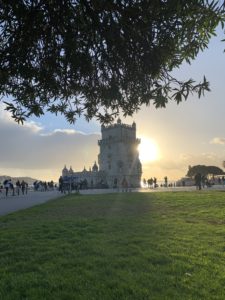 On our way back we grap some dinner in one of the supermarkets. After dinner we straight fall to sleep, what a day, full of impressions! Lisbon is simply beautiful!
On our schedule for Sunday is the "Santuario Nacional de Cristo Rei" and Sintra.
So we make our way to the ferry terminal and buy a ticket to cross the Atlantic. As we arrived on the other side, we decided to take a "tuk tuk" to get up to the statue. The statue was buildet in the 70's after some political meeting in Rio de Janeiro. It's a beautiful viewpoint to see Lisbon from the other side.
Our next stop is Sintra. First we wanted to take back the ferry and catch a train in Lisbon to go for Sintra. Whilst we tried to get a transported back to the ferry terminal, we had the idea to take a Uber straight to the "Palacio Nacional de Pena". With an first time Uber user discount, we could catch a nice driver taking us to Sintra. This decision at the end probably saved our day in terms of time, because we saved a lot on going straight by car to Sintra. I would recommend everybody to do like this! If you want to go by train, you should plan a full day only for Sintra. As we arrived at Sintra, the car is getting its way up the hill along some beautiful chateau's, closer and closer to the bright red and yellow shining "Palacio Nacional de Pena".
Even during off season the palace is really crowdie and full of tourist's but anyway a "must see" if you come to Lisbon.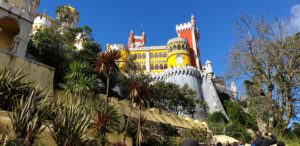 To the palace belongs a park which was pretty quiet compared with the castle itself. Through the park you can walk your way along the "Guerreiro e Mesa da Rainha" to the "Cruz Alta" opposite of the castle to catch a spectacular view on the palace itself.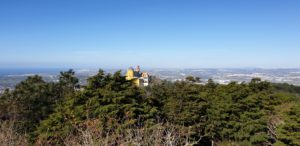 The way down from the cross gets along the "Valle dos Lagos" through beautiful forest landscape.
Arrived at the end you have the opportunity to visit the "Castelo dos Mouros" to the right side of the palace. It is definetly worthin the climb up to the top of the castle which is rewarded with a magnificent 360 degree view to the surrounded area.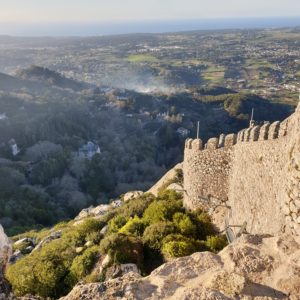 It was one more time a breathtaking day with so many Impressions! Lisbon and Sintra they are simply amazing and should be on everybody´s bucketlist!!
This last evening we spend in the delicios "RIB Beef & Wine" to get some tasty steak, yummy 🙂 really nice Restaurant which I can recommend!